40 tons of horizontal cement silo including slot type screw conveyor, horizontal cement silo body, feeding steel tube, manhole covers, vibrator, safety valve, material level meter, dust filter, electronic control system, etc.Silo is the main part of the horizontal cement silo ,also is the main carrier of feeding steel tube, manhole covers, vibrator, relief valve, level meter, dust filter, etc.

Horizontal cement silos at the top with the dust removal device, can adsorption suspended particles in the body, reduce the pollution to the environment around.When the dust on the filter is large, can start the filter by electrical control system on the vibration of the motor, should shake the dust.

Horizontal cement silo bottom with a vibrator, avoid cement arch camber, cause congestion.

Horizontal cement silo discharging port by bolt connection with slot type screw conveyor, by screw conveyor send cement to cement scale.After finish of measuring cement by cement scale,than will be by screw conveyor at the bottom of the cement scale to pick up material to mixing car.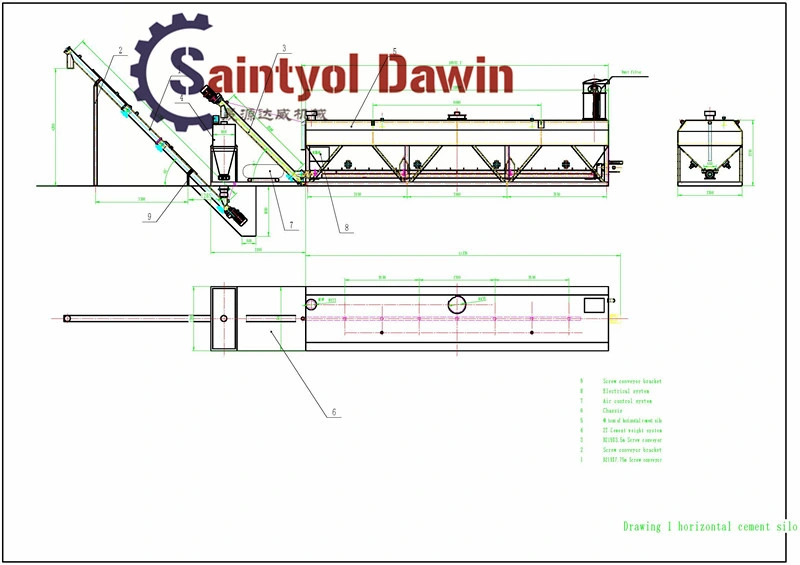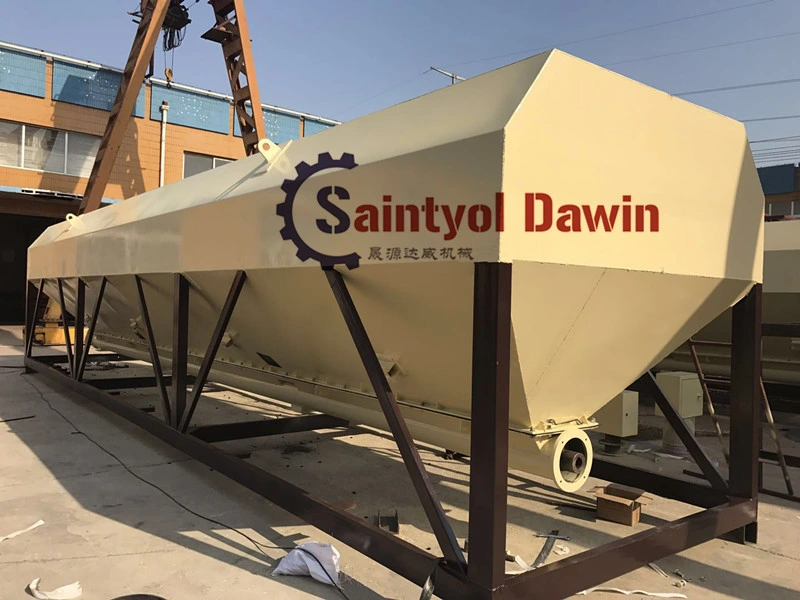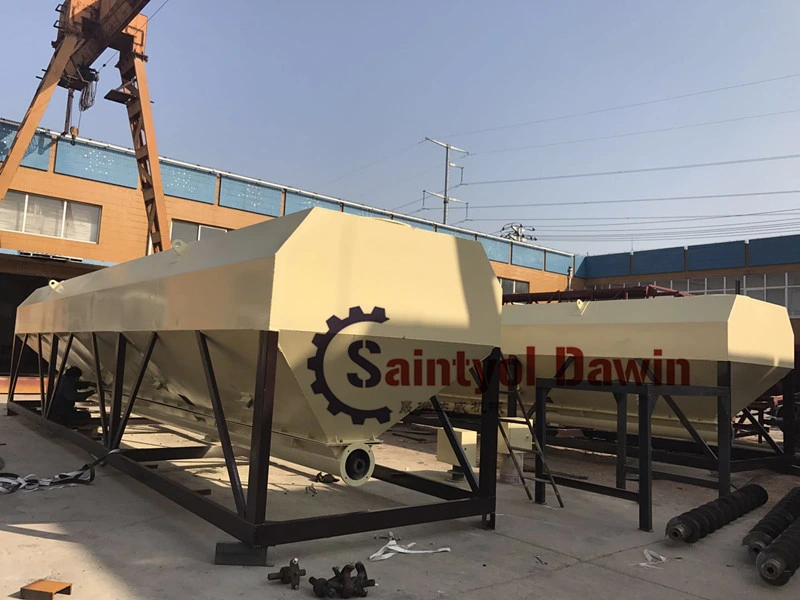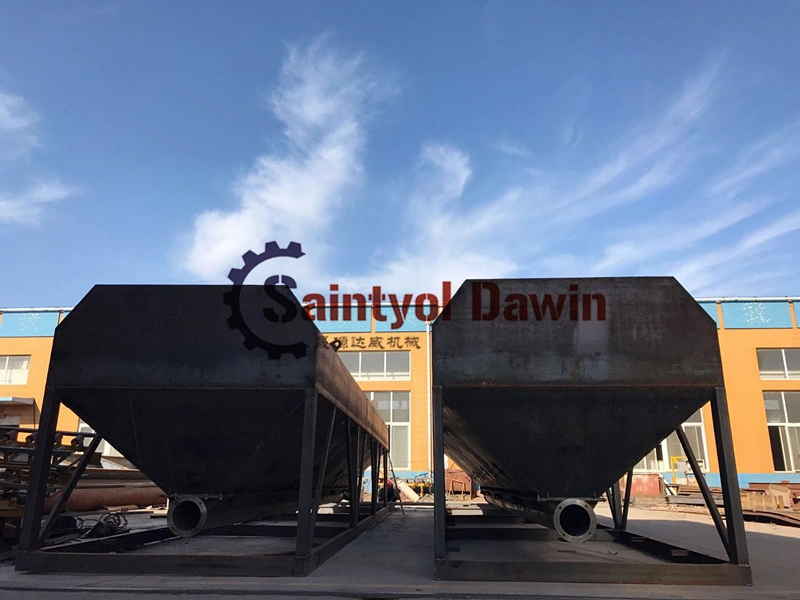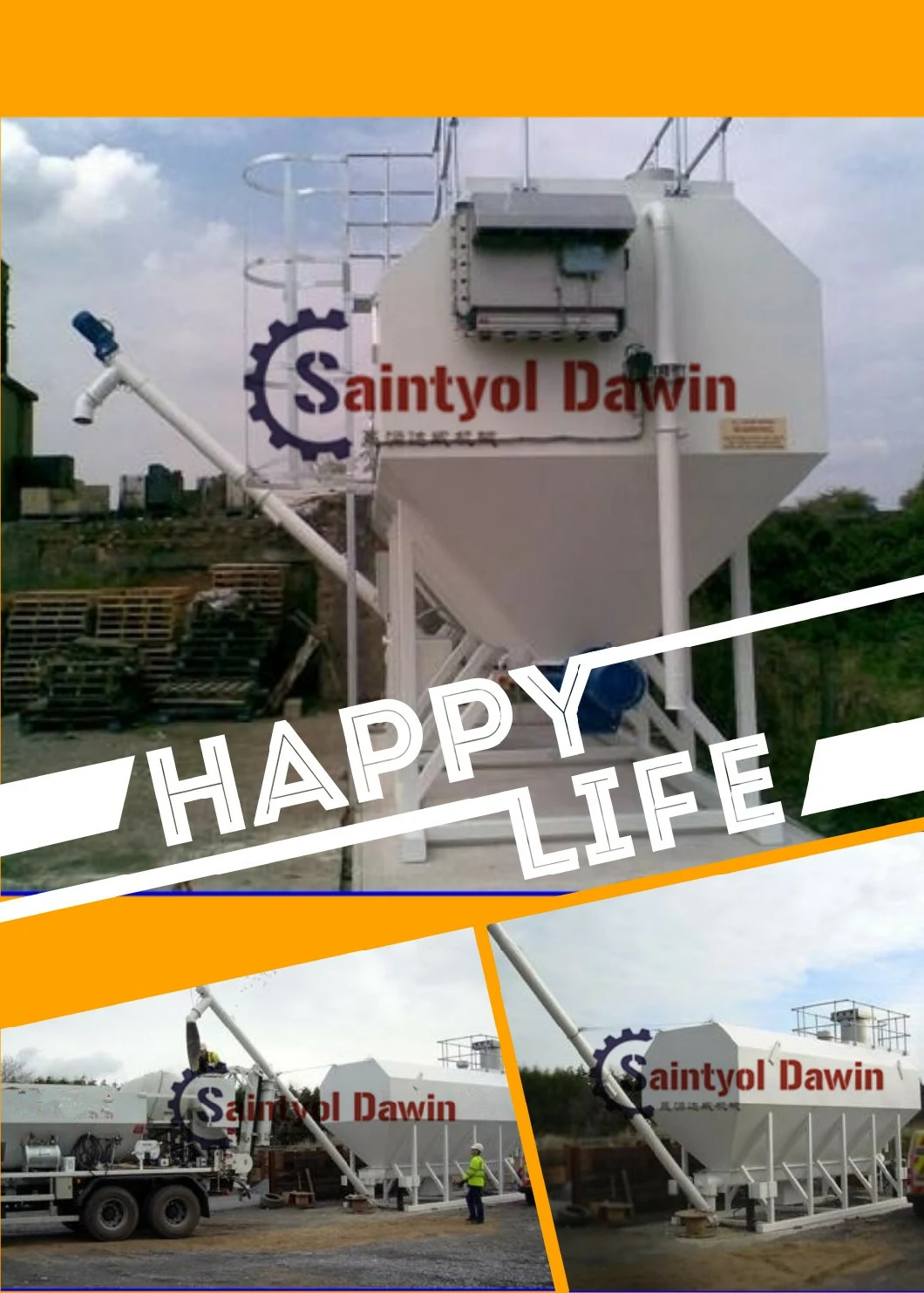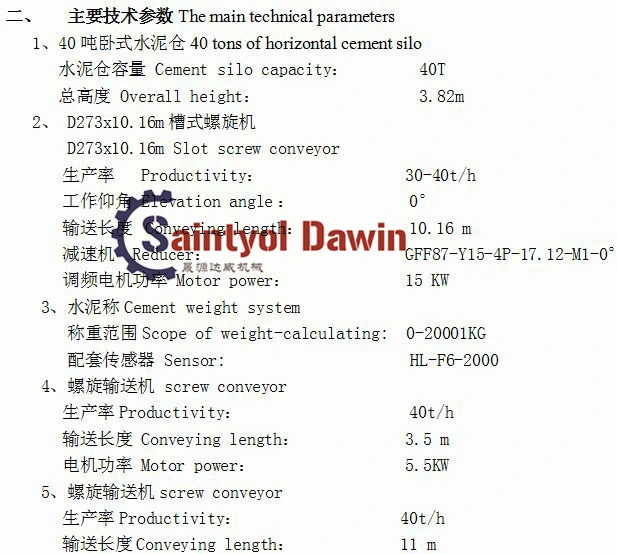 The upper of horizontal cement silo is equipped with two resistance material level meter, the material level can perception of the silo cement stored in the body height, by electrical signals in timely and accurate response the silo cement storage conditions

Horizontal cement silo is equipped with a relief valve in the body top, avoid blasting silo or suction phenomenon when the pressure difference is too large in vivo and in vitro, ensure use safety.
,.
Horizontal cement silo has a feeding tube to transport cement to the silo , can be directly by the bulk cement truck cement by compressed air to send to silo

2.Slot screw conveyor (Check Drawing3)

Slot screw conveyor is mainly composed of screw body, steel tube, motor, reducer, etc.Screw conveyor installed below the horizontal cement silo, responsible for cement to cement scale.Form a complete set of screw conveyor driven by motor with reducer, reducer with frequency modulation motor, adapter power 15 kw. The motor model GFF87 Y15-4 p - 17.12 - M1 0 °.
3. Cement weight hopper(Check drawing4)

Cement weighing hopper is composed of the hopper body and air discharging door, by three pressure sensors install in the rack.The hopper body by forming a good plate welding and become, discharging door adopt pneumatic line with rubber butterfly valve, sealed performance is good, the butterfly valve control opening and closing by cylinder.Cement material by screw conveyor send into, screw conveyor and hopper connection with tarpaulin , weighing hopper outlet connected to the screw conveyor with canvas cover.Weighing hopper top is equipped with dust removal, in order to achieve the dust removal effect. All of the canvas (rubber) cover with dust removal pipe should not be stretched too tight, in order to guarantee the cement measurement accuracy.
3.1 Support rack

Support rack by profiles and steel plate welding and become, as a powder that support structure. Its bottom and chassis steel bolted together.
4. Screw conveyor
.40t/h,3.5m,45.,40t/h,7.75m,45
In powder and powder between bin is equipped with a screw conveyor.Theory of cement screw conveyor throughput of 40 t/h, the length of 3.5 m, corresponding to the installation Angle of 45 degrees.And powder weighed down with cement screw conveyor, the theory of throughput of 40

Screw conveyor is driven by motor through the reducer screw axis powder from the silo to powder scale.Screw conveyor assembly points 3 section, between each two sets intermediate support, for varying pitch screw blade blade, in order to facilitate delivery.Through the ball screw conveyor feed end hinged flange connection to bin discharging powder on the flange.Screw conveyor at the other end with wire rope hanging on the power house or with fixed hoop structure in the main structure.Conveyor on each section have bore detection and maintenance.

In order to guarantee the normal work of the screw conveyor, powder material can not have agglomerate or foreign bodies, and should be appropriately adjust the powder discharging door, drop powder quantity corresponds to a screw conveyor throughput.

When the powder not use for a long time, should be emptying all powder in the screw conveyor , in order to avoid powder be affected with damp be affected with damp agglomerate, cause jams.
Cement screw conveyor in detail see the screw conveyor operation instruction handbook ".(Check drawing 5)
5 (6) Air control system (Check Drawing 6)

Pneumatic system consists of air compressor, air source triplet, pipe, solenoid valve and butterfly valve.
.
Compressed air through the filter of air compressor and air source triplet purification, entered the selection after decompression, refueling, normal working state, the pressure in the gas path should keep in the range of 0.5 ~ 0.8 MPa.Pneumatic pipe with PU tube, to avoid the use of steel tube with internal slag components plugging problems caused by the rust off.
3. Electrical control system

Electric control system by the control cabinet, external cable, trough, etc.Control loading contained in the contactor, air switch, terminal blocks, buttons, lights, alarm and other electrical parts.The introduction of the power cord from the scene.

Equipment with electric control system for dust collector, material level meter, broken arch vibrator to control and to warehouse material level for display and alarm.Dust cleaning, a coal arch breaker of vibrator all manual operation by the button.All cement weighing machine delivery by the button manually.

DAWIN Machinery is a company specializing in the research, design and production of construction machinery for nearly 20 years. We provide the most reasonable solution according to the special demand from different customers. Our main products for construction machinery are as follows: Concrete mixer, concrete batching plant, diesel concrete mixer, concrete pump, sand so on. With several researching and producing bases in China, we can provide the powerful technical service and upper quality machinery for the clients all over the world.

We take care of your order!


1. Best manufacturer in North China.



2. A factory with over 20 years' experience.



3. Professional teamwork of every process.



4. Competitive price and perfect quality.



5. Efficient after-sale service.


After-sale Service
1. May enjoy the life-long service after you buy our products.
2. Training the operator for free.
3. Under the condition that foundation, water source, power source, aggregate, hosting
Equipment, auxiliary staff is ready. Engineers are available if you need.
4. Certain quantity stochastic tool will be provided while delivering goods.
5. Within 48 hours service will be available according to different regions after received
The telephone.
6. For exported products, Our company sends the constructor to help to operate and
Management equipment, time according to your needs. The related fee will be undertaken
By buyers.
7. Promptly provides the fittings according to users' demands, handles for the user consigns
For shipment.
8. All products (easy worn parts not included) loss caused by non-human factors will be
Free of charge for half a year.
9. Provides the technology advisory service as necessary.
10. Please contact me via telephone when you have any problems with the plant.



Dear Friends:

Welcome to our website and hope our large steel silos will make you satisfied. We think creatively, design bravely, manufacture precisely and loyalty to our customers. And we have our own factory. So We can produce the products, according to customer requirements.

Enjoy DAWIN Machinery Enjoy Better Life!

Yours sincerely
Saintyol Dawin Machinery