Fully Automatic Ready Mixed Concrete Mixing Plant, 60m3/h Concrete Batching Plant
Our ready mixed concrete mixing plant can be widely used in construction projects like buildings, roads, bridges, high way roads, municipal projects,docks, airport, water projects, hydropower station,etc. They can also be used in precast concrete unit factories and used as commercial concrete batching plant to sell high quality concrete to different buyers.
FOCUS Belt conveyor concrete batching plants adopt the twin-horizontal shaft, which can produce many kinds of concrete such as plastic and dry concrete.
The aggregate adopt the accumulated or separate measurement. The cement, water, additive adopt the weighing hopper to measure, which can reach a very accurate measurement.
It is easy to operate. Because all the parts are controlled by the computer.
∑Competitive price and high quality
∑Good after-sale service;
∑ISO and CE certified with 12 months warranty
∑Reliable performance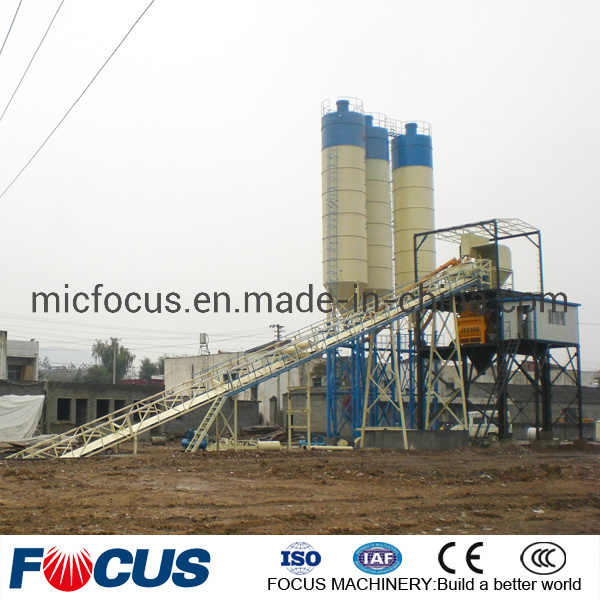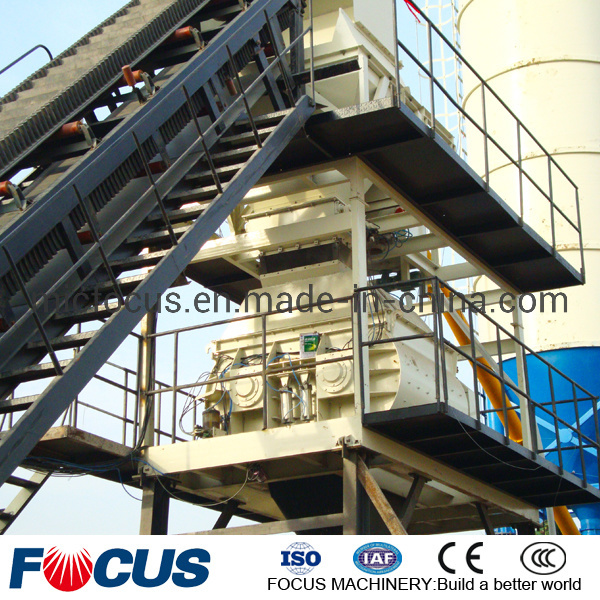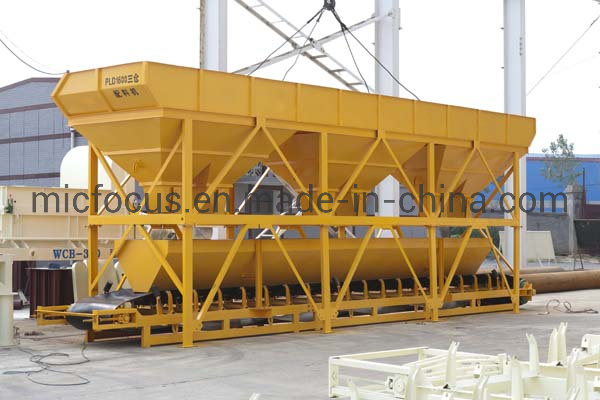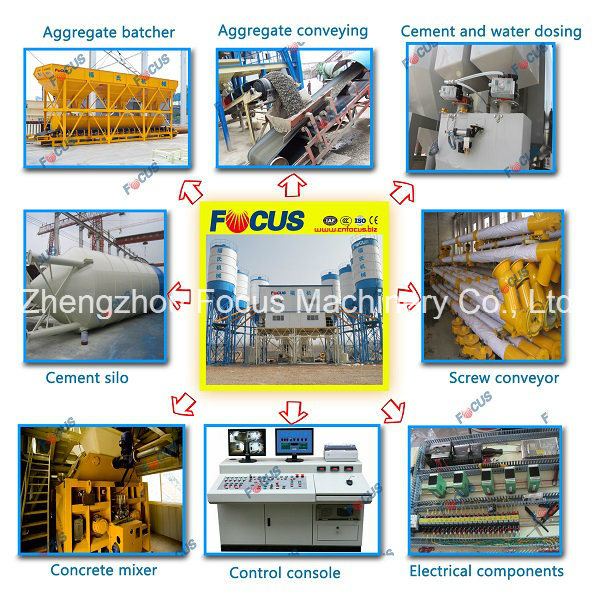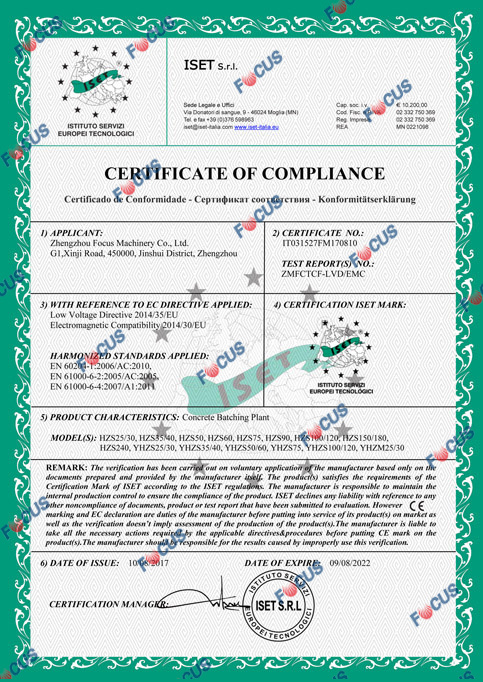 Parameters of FOCUS Belt conveyor concrete batching plant:
Model
HZS60
HZS90
HZS120
HZS180
HZS240
Theoretical output(m³/h)
60
90
120
180
240
Mixer model
JS1000
JS1500
JS2000
JS3000
JS4000
Output per batch(m³)
1
1.5
2
3
4
Aggregate batcher
PLD2400
PLD2400
PLD3200
PLD4800
PLD6400
Total power(KW)
110
145
160
205
340
Aggregate weighing accuracy(%)
(0-3000)kg±2%
(0-4000)kg±2%
(0-4500)kg±2%
(0-4500)kg±2%
(0-6000)kg±2%
Cement weighing accuracy(%)
(0-600)kg±1%
(0-1000)kg±1%
(0-1200)kg±1%
(0-1800)kg±1%
(0-2400)kg±1%
Water weighing accuracy(%)
(0-400)kg±1%
(0-400)kg±1%
(0-600)kg±1%
(0-800)kg±1%
(0-1000)kg±1%
Fly ash weighing accuracy(%)
(0-400)kg±1%
(0-400)kg±1%
(0-600)kg±1%
(0-800)kg±1%
(0-700)kg±1%
Additive weighing accuracy(%)
(0-40)kg±1%
(0-40)kg±1%
(0-50)kg±1%
(0-50)kg±1%
(0-120)kg±1%
Discharge height(m)
3.8-4.2
Max. aggregate dia.(mm)
80-100
Cement silo and screw conveyor
On request
Total weight (ton)
46
60
71
87
112
Overall dimension(LxWxH)(m)
33.8x14.8x19.4
38x16x19.4
44x18x19.4
58.5x23.5x22
60x25x22
What are the main features of FOCUS Belt conveyor concrete batching plant?
∑Adopting twin-shaft compulsory concrete mixer, FOCUS concrete batching plant mixes evenly and rapidly, achieving good mixing effect for all kinds of dry, semi-dry and plastic concrete;
∑Compact-structured planetary gear was adopted in our concrete batching plant to ensure smooth, speedy and efficient transmission;
∑Concrete batcher can be designed as underground, partially underground or fully-above ground, 3-6 hoppers are pneumatically controlled by computer with fast and accurate instruct, whole job can be done in separate or accumulative models;
∑Aggregate belt conveyor is truss-framed for easy assembly, inclination angle is normally less than 20 degrees, however, it can be up to 45°by adopting through(groovy) belt when the ground area is limited for the concrete batching plants;
∑Three-point suspension sensors equipped to guarantee accurate and fast powder and liquid weighing;
∑Dust collection system mainly aims at dealing with dust generated in the process of loading the mixer and pumping powder into the powder tank, the whole batching plant is all in closed state;
∑UPS, stable performance Siemens PLC, high speed and precision weighing unit module combined with our professional control and monitoring software;
∑Full automatic and easy operated production process of material measurement, transfer, mixing and discharging.
Heating system and ice plant could be adopted into this concrete plant in severely cold and hot environment.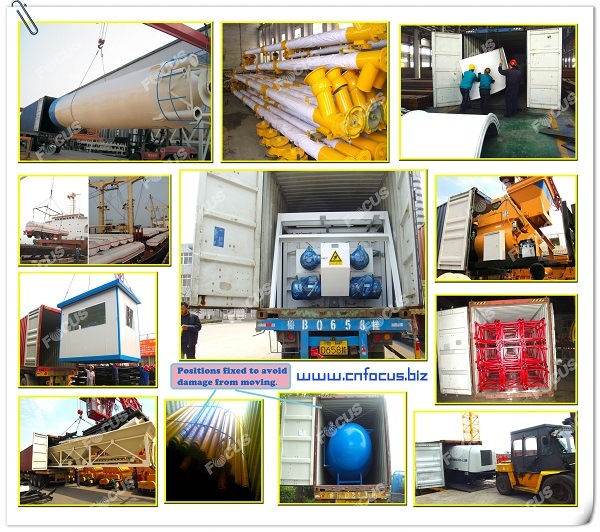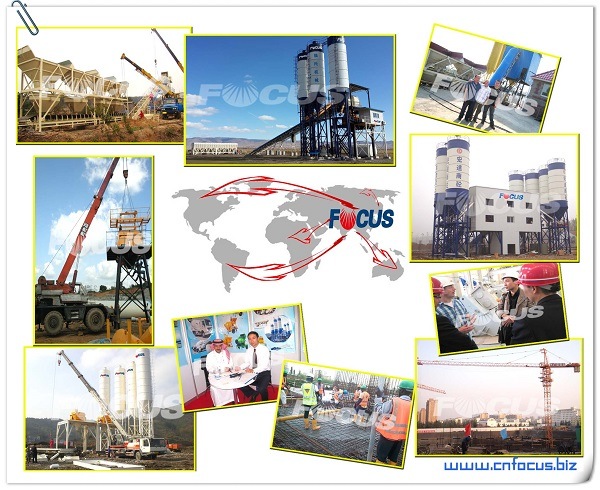 Thanks for visiting, by the time you are paying attention to us, our concrete batching plants are being delivered /distributed to the world everyday - it'll be such a great honor if you can join us.
For more information please visit us @ micfocus.en.made-in-china.com